VENDOME | For more jewellery options, you can click the VIEW button on your right which will connect you to the official Fabergé site. We will then arrange payment for your selected piece(s) as well as shipping.
The Heritage collection draws inspiration from Fabergé's original jewelled masterpieces, capturing their refinement, cultural richness and technical perfection. Traditional, often complex, materials and techniques such as the delicate art of hot enamelling, the engine turning craft called guilloché and hand-engraving, make up the signature elements of this colourful and opulent collection.
The Fabergé Imperial collection is inspired by the jewelled splendour of the Imperial Romanov court, and evokes the rhythms of the Russian seasons, whether literal or metaphorical. The jewels, in true Fabergé style, demonstrate an intuitive interplay of rare coloured precious gems, diamonds and pearls with superlative hand artisanship, to capture and reflect the changing light, colours and atmosphere of each season.
The Rococo collection is Fabergé's contemporary take on rococo style, reinterpreting the iconic scroll motif through a sculptural and bold collection that celebrates Fabergé's heritage, technical virtuosity and artistry. The collection takes inspiration from the gold scrolls featured on the legendary Rocaille Egg, an original Fabergé Easter Egg created in 1902 for Russian heiress Varvara Kelkh, which recalls 18th century Louis XVI style.
The Treillage collection is inspired by the Diamond Trellis Egg, created by Fabergé in 1892. The trellis-like lines of the quilted pattern recall the sumptuous furnishing of the great Romanov Palaces, the classical century-revival style that dominated the decorative design at the turn of the century, from Paris to St. Petersburg.
The Emotion collection, infused with intense colour, explores the intellectual and artistic richness of Fabergé's world. These bold and daring jewels, pushing the boundaries of design and craftsmanship in true Fabergé spirit, illustrate the Fauvist view of colour as an emotional force and an expression of feeling.
The pieces from this collection are iconic, sophisticated and versatile.
An assortment of various charms, interpreted in the distinct styles of the current Fabergé collections.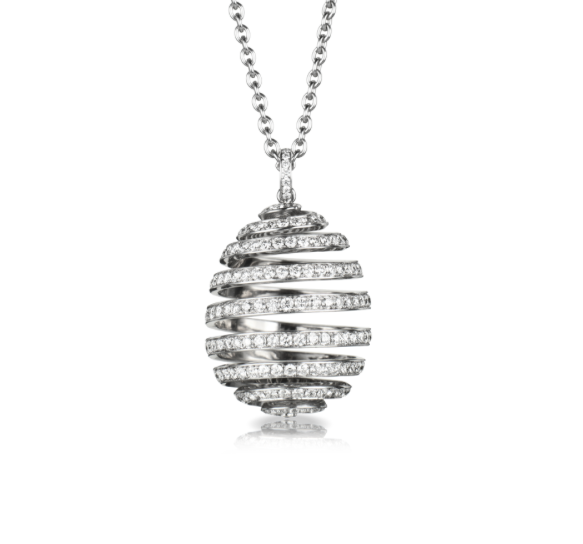 The iconic egg-shape silhouette is deconstructed, expressing modern, delicate and unexpected forms.