Titanic-DNA Steampunk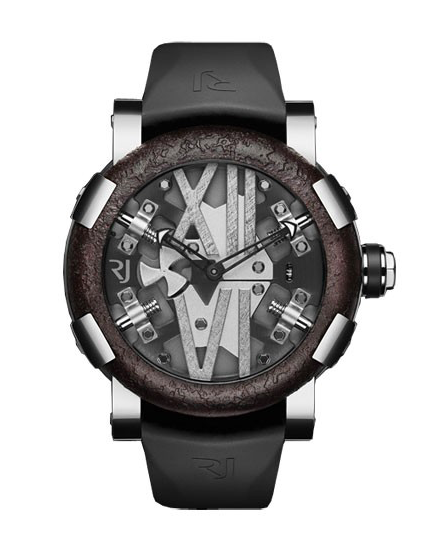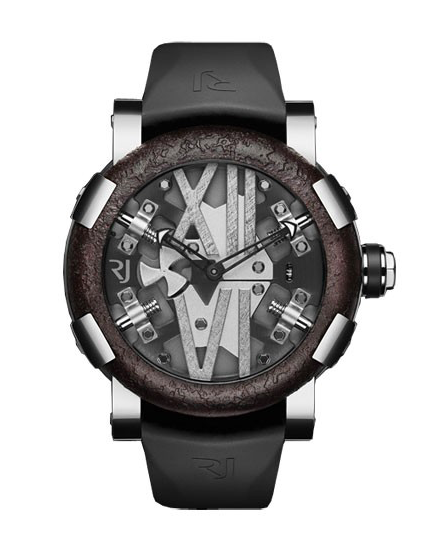 Titanic-DNA Steampunk
To mark the 100th anniversary of the launch of the Titanic, RJ-Romain Jerome pays tribute to the seagoing giant that inspired the Steampunk collection, by creating a special limited series, the Steampunk Chrono 100th Anniversary.
Housed in a 50 mm-diameter case featuring distinctive rough and raw finishes, the Steampunk models in the Titanic-DNA collection embody the ship's sheer power. They feature a bezel in oxidised and stabilised rusted steel stemming from the extraordinary fusion between the metal of the legendary and the metal provided by the Harland & Wolff shipyard in Belfast where the Titanic was built a century ago. For this anniversary edition, the mobile propeller appearing on the dial of the Steampunk and reminiscent of those on the legendary ship, have been oxidised and stabilised by the same process as that used for the bezels of Titanic-DNA watches. A unique medallion, commemorating the launch date of this titan of the seas, adorns the caseback of this timepiece issued in a limited series of 100.
A century after its birth, the Titanic still embodies one of the most incredible challenges that humankind has ever undertaken.
Rusted, oxidized and stabilized Titanic steel bezel with sandblasted black PVD-coated steel paws
Chronograph counters with black gold and satin-brushed hands recalling the manometers of the ship engine room